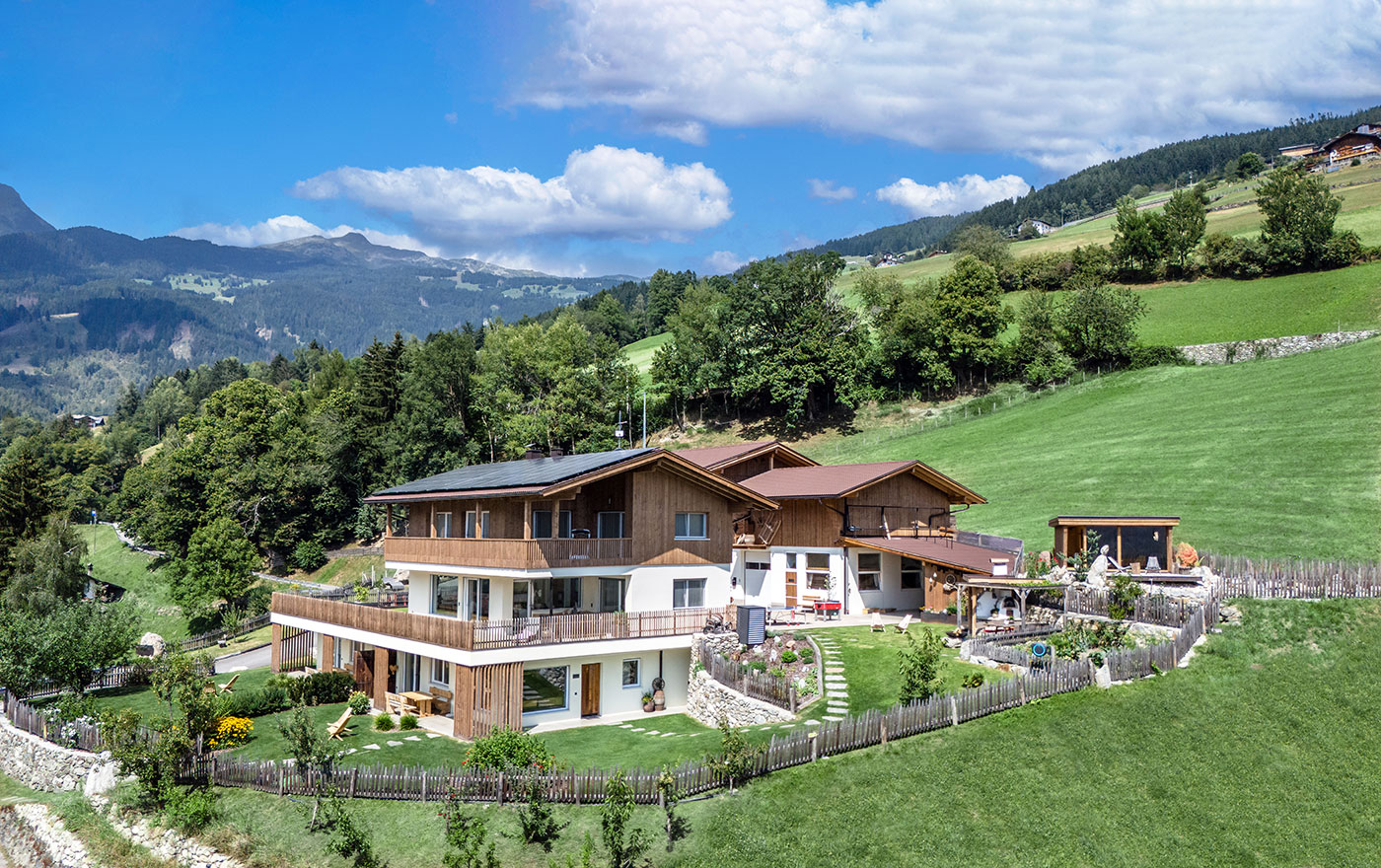 Your farm holiday in South Tyrol
Arrive - stay - enjoy - experience
Admire the views of the Nock Mountain Range and the Lorenzi Peak, inhale the scent of nature, enjoy absolute peace – what a dream! It's not a dream – welcome to the Hinterscholerhof, your farm holiday in Klausen. Far away from traffic and noise and yet centrally located, you will find plenty of space, a quaint Tyrolean parlour as a reception and lounge, and of course our modern and sunny holiday apartments with their private garden.
Many old pieces from the demolished farmstead, which we reused in the new building, add a touch of nostalgia. During your hiking tours, you may visit our private and quaint alpine hut on the Latzfons Alpine Pasture. And how cool is that: we have our own water source, from where you can tap clear mountain water every day. You are welcome to harvest fresh seasonal fruit, vegetables, and aromatic herbs in our garden and if you are lucky, you will find a fresh breakfast egg in the chicken coop.
3 unique features for your farm holiday
Culinary pleasures - well-being - enjoyment



Holidays on a farm in Latzfons - Klausen
A natural idyll at 1,000m with lots of space
Congratulations! You spend your vacation in a small natural paradise at 1,000 meters above sea level with plenty of space, and yet there is certainly no space for boredom here at the farm Hinterscholerhof in Latzfons. You may find inspiration for your daily experiences right from the garden of your holiday apartment: If you look straight ahead, the Latzfons Cross, the Kassian and other striking mountains will lure you in – so pack your backpack and embark on an alpine adventure. If you look to the left, there is the Villanders Mine – it will definitely be an exciting day in the Elisabeth Tunnel. If you look down the hill, you will see Gernstein Castle – that makes you want to go on a cultural excursion.
If you're not in the mood for action, just stay here at the farm, unwind, relax in the panorama sauna, enjoy the sun and the quietness, or help us with our farm work. With every new vacation day on our farm, you will create great memories, so let's go!

Family vacation at the farm
A pure family experience - playground & farm animals
It's a fact – children need fresh mountain air and plenty of space to play, and that's exactly what your kids will find here with us. During your family vacation on our farm above Klausen, little guests turn into big explorers. Especially our farm animals – such as goats, sheep, chickens, rabbits, cats, and ducks – are looking forward to interested visitors and cuddles in the barn and on the alpine pasture.
Our large playground right next to the holiday apartment is ideal for playing and romping freely while you relax on your sun lounger and enjoy the magnificent views of the surrounding mountain peaks. Oh yes, and if you're brave enough, then try the self-made stilts – certainly great fun for everyone. In the evening you can eat, laugh, and sing together at your private barbecue area or by the campfire… a farm holiday in South Tyrol is so beautiful.
With all this and much more, we would like to welcome you with your family or a group of friends to our young farm. By the way, the farm is located in Latzfons near Klausen, on the sunny side of the South Tyrolean Eisacktal Valley and is perfect for your small and big holiday adventures. We're really looking forward to meeting you!